Price

RM5.00 - RM10.00

Product SKU
VT-W&P
Brand
V-TECH
Size (L x W x H)
9 cm x 3 cm x 24 cm
Availability
In Stock
Shipping Fee
Size
Quantity
Description
Highlight
Special Features:-

~Surface Preparation
1. Substrate must be smooth, flat, clean, dry and free of excessive moisture and alkali. Remove dirt, wax, grease, paints,oil, sealers, curing compounds and all foreign matter that would interfere with proper adhesion.
2. The installation site should have a consistent room temperature of 18-35 celcius to allow for proper acclimation.
~Directions
1. Apply the adhesive uniformly onto one surface
2. Spread sufficient amounts of adhesive with a trowel in an area that can covered within 10-30 minutes
3. Place together the surfaces while adhesive is still wet
4. Joint surfaces must be held together for at least 36 hours. Clamping for furniture parts or weight for flooring, are required.
Description Of V-Tech Wood and Parquet Adhesive
VT-Tech Wood and parquet adhesive is a water based, non-toxic, and non-corrosive adhesive that is excellent for wood bonding application. It features quick setting, superior bonding strength and it bonds variety of porous substrates. It is specially formulated to obtain superb resistance to plasticizer migration thus able to bond PVC effectively at the same time provides adequate water and alkali resistance.
Features:-
~Ready to use
~Non-toxic
~Water based
~High bond strength
~Fast curing
~Forms thin gapless layer when set
~Solvent free and low odour
Store in a dry and cool place, below 30 celcius. Keep container tightly closed.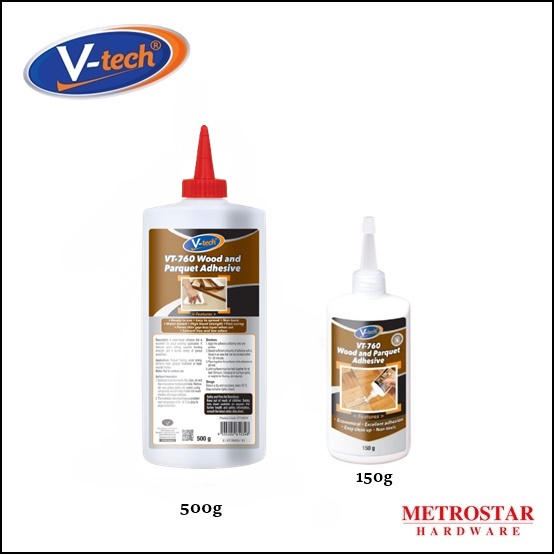 #metrostarhardware #hardwarepenang #readystockhardware #V-Techbrand #penanghardware #bayanbaru #malaysiashipping #readystockmalaysia #V-TechWoodandParquetAdhesivepenang #V-TechWoodandParquetAdhesivemalaysia #V-TechWoodandParquetAdhesive
#V-TechWoodandParquetAdhesivereadystockpenangbayanbarumalaysia #V-TechWoodandParquetAdhesivepenang #V-TechWoodandParquetAdhesive
Visit us at:
https://www.metrostarhardware.com/
https://www.facebook.com/metrostarhardwarepenang/
Reviews (0)
view all
back
What's in the box
1x V-Tech Wood and Parquet Adhesive
Super-permeable crystallized waterproofing
QL-Concrete 1 is a super-permeable crystallized waterproofing agent which incorporates nano-scale inorganic silicate for concrete curing, repairing and strengthening. It is a new patented technology product developed by QingLong Company for water seepage control.
QL- Exterior Wall Transparent Waterproof Coating
QL- Exterior Wall Transparent Waterproof Coating is a flexible, transparent and colourless polymer product, which is produced by combining special polymer emulsion, styrene-butadiene rubber polymer modifier, surfactant and plasticizer