Price

RM280.00

Product SKU
WBTS800126WW
Brand
JOHNSON SUISSE
Size (L x W x H)
40 cm x 7 cm x 50 cm
Availability
In Stock
Shipping Fee
Quantity
Description
Highlight
Solid and Quality Heavy Duty Toilet Seat Cover Soft Close Type

Suitable for Johnson Suisse Cistern WC Bowl Set
Product details of Johnson Suisse Heavy Duty Ancona Toilet Seat Cover (Soft Close)
Features:-
-Non-Recycle And Good Quality Plastic Heavy Duty Toilet Seat Cover.
-White Colour Soft Close Toilet Seat Cover.
-Solid and Good Quality Toilet Seat Cover with STAINLESS STEEL Hinges.
-Consists Of Solid Bush to Prevent Overslamp Of Cover After Closing.
-Consists Of Four Comforter To Protect Toilet Seat Cover.
-Easy To Install With Stainless Steel Hinges and Nut Provided.
-Special Design For Johnson Suisse Toilet Cistern.
Installation Steps:
Before Installation, Please Check All Parts Are Ready And Match.
All Above Fittings Are Workable For Installation, Takes Material Object As The Standard.
1. Put Stainless Steel Hinges Into Toilet Bowl Seat.
2. Before Attaching The Seat, Move Mounting Bases So Posts Align WIth Holes In The Back Of The Seat.
Once Aligned, Carefully Lower The Seat (Holes) On The Mounting Post.
3.When Mounting The Seat Make Sure The Posts Align With Holes In The Back Of Seat. And Carefully Lower Seat Back Into Place ("Click" Will Heard).
Note: Do Not Push Hard Or Force Seat Onto Posts.(If Difficult, Re-Check Alignment)
4. To Remove The Seat, Press Quick Release Button (Should Hear a "Click") And Open Seat To Vertical Position, Then Lift The Seat Straight Up With One Hand.

ATTENTION:
BE Careful The Damage Of Toilet Seat. Do Not Stand On Toilet Seat, Overloading May Lead To Toilet Seat Crushing Or Hinges Broken.
Product Care and Maintainance
Wash the Seat and Cover Regularly With Soapy Water, Then Rinse With Fresh Water.
Rub with Soft Cloth. DO Not use Solvents and Abrasive Products.
Keep Toilet Seat Away From Chemicals And Cosmetic In Bathroom.
Avoid Using Any Disinfector, Detergents Or Any Other Spraying Cleanser.
Do Not Use High Concentration Detergent To Clean Which May Scratch The Surface Of Toilet Seat And Make Toilet Seat Tarnish.
Cautions:
1. Please Do Not Expose Toilet Seat Directly To Sunlight For Along Time.Avoid Any Strong Lights And High Temperature.
2. Please Do Not Put Heavy Things On Seat Cover Or Suddenly Sit Forcefully On The Seat, Which May Lead To Toilet Crack.
3. Please Do Not Clean The Toilet Seat With Strong Chemical Cleanser Or Stiff Brush.
4. Please Do Not Close The Seat Or Cover Forcibly Which Lead To Soft Close Function Lose Efficacy, Affect Normal Using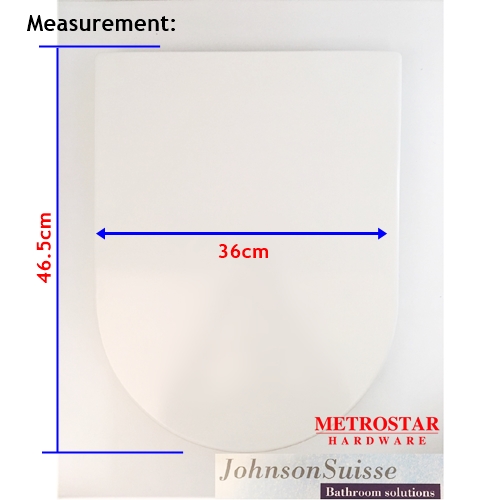 Reviews (0)
view all
back
What's in the box
1 x Johnson Suisse Heavy Duty Ancona Toilet Seat Cover (Soft Close)