Price

RM13.00

Product SKU
Araldite-90minutes
Brand
ARALDITE
Size (L x W x H)
11.5 cm x 2 cm x 18 cm
Availability
In Stock
Shipping Fee
Quantity
Description
Highlight
Special Features:-
~Should be stored in a dry place at room temperature in the original tubes.
~Environmentally friendly product formulation plus eco-friendly packaging for easy recycling.
How to use:
Make sure the surfaces to be joined are clean, dry and free of grease. Roughen smooth, glossy surfaces. Squeeze out equal amounts of resin and hardener. Mix throughly and use within 90minutes (18-24°C room temperature)
Apply mix to both joint surfaces.Assemble parts and hold together with clamp, tape, string or weights,etc for at least 6 hours. The newly bonded joint can be handled after 12 hours.
Description Of Araldite 90 minutes Standard High Performance Epoxy Adhesive
A strong, solvent-free adhesive suitable for all materials, ideal for durable bonding and repairs. Perfect for complicated jobs which require adjustment thanks to a long working time.

Features:-
~Excellent epoxy adhesive for metal, wood, masonry, ceramics, glass, dry concrete, chipboard, leather, cardboard, fabric, rubber and most plastics (except polyethylene, polypropylene, Teflon®).
~High strength and high stiffness
~High creep resistance
~High fatigue resistance
~High temperature resistance
~Excellent chemical resistance
~Low shrinkage
.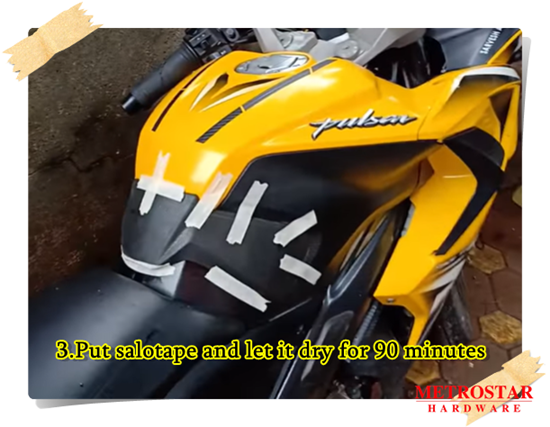 #metrostarhardware #hardwarepenang #readystockhardware #Ardalitebrand #penanghardware #bayanbaru #malaysiashipping #readystockmalaysia #Ardalitepenang #Ardalite90minutesStandardHighPerformanceEpoxyAdhesive #Ardalite90minutesStandardHighPerformanceEpoxyAdhesivemalaysia
#Ardalite90minutesStandardHighPerformanceEpoxyAdhesivereadystockpenangbayanbarumalaysia #diytools #adhesive #doityourself
Visit us at:
https://www.metrostarhardware.com/
https://www.facebook.com/metrostarhardwarepenang/
Reviews (0)
view all
back
What's in the box
1x Araldite 90 minutes Standard High Performance Epoxy Adhesive
Super-permeable crystallized waterproofing
QL-Concrete 1 is a super-permeable crystallized waterproofing agent which incorporates nano-scale inorganic silicate for concrete curing, repairing and strengthening. It is a new patented technology product developed by QingLong Company for water seepage control.
QL- Exterior Wall Transparent Waterproof Coating
QL- Exterior Wall Transparent Waterproof Coating is a flexible, transparent and colourless polymer product, which is produced by combining special polymer emulsion, styrene-butadiene rubber polymer modifier, surfactant and plasticizer